Webinar | CE Credits
3D Printing Night Guards
Thursday, January 26, 2023 at 4:00 pm PT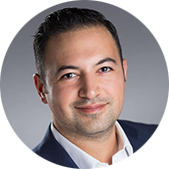 Webinar Topic
Treating occlusal issues has become more important than ever with grinding and clenching issues on the rise. In this webinar, Dr. Arash Hosseini will show you how to 3D print night guards in your practice using state-of-the-art resins. He will demonstrate how using SprintRay 3D printing can save time, money, and elevate the patient experience. Tune in to learn how to implement this workflow in your office.
Course Objectives:
Provide an overview of the scan-to-print workflow for night guard fabrication

Demonstrate how the SprintRay 3D printing ecosystem can help dentists deliver custom night guards while reducing costs and lead times

Review current options for design and materials including SprintRay Cloud Design and resin offerings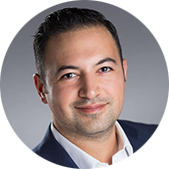 Dr. Arash Hosseini
Dr. Arash Hosseini is a graduate of DePaul University, where he majored in biology and minored in art and sculpture. Dr. Hosseini then received his Master of Biology degree from the prestigious Illinois Institute of Technology with a focus on Biochemistry. He then earned his Doctor of Dental Surgery (DDS) degree from the University of Illinois College of Dentistry, where he served a diverse population of patients, exposing him to all types of real-life dental and medical situations.
During his clinical experience at the University of Illinois, Dr. Hosseini was selected, along with a small group of his peers, to be sent to Colorado and treat underserved areas of the state that were in great need of basic and essential dental care. During this rotation, Dr. Hosseini developed great clinical skills and addressed a wide variety of problems, providing him with a priceless experience that would contribute greatly to his work in private practice.
Dr. Hosseini is an active member of the dental community and engages in further education and training to enhance his skills and knowledge. In addition to his passion for quality and cosmetic dentistry, Dr. Hosseini has made it his mission to distinguish his practice from others by embracing the latest in dental technology. He has received advanced training in CEREC, Invisalign, and Solea. Dr. Hosseini is currently participating in the Chicago Implant Dentistry Continuum to advance his skills in dental implant placement and restorations.